Otis House
Boarding House Chamber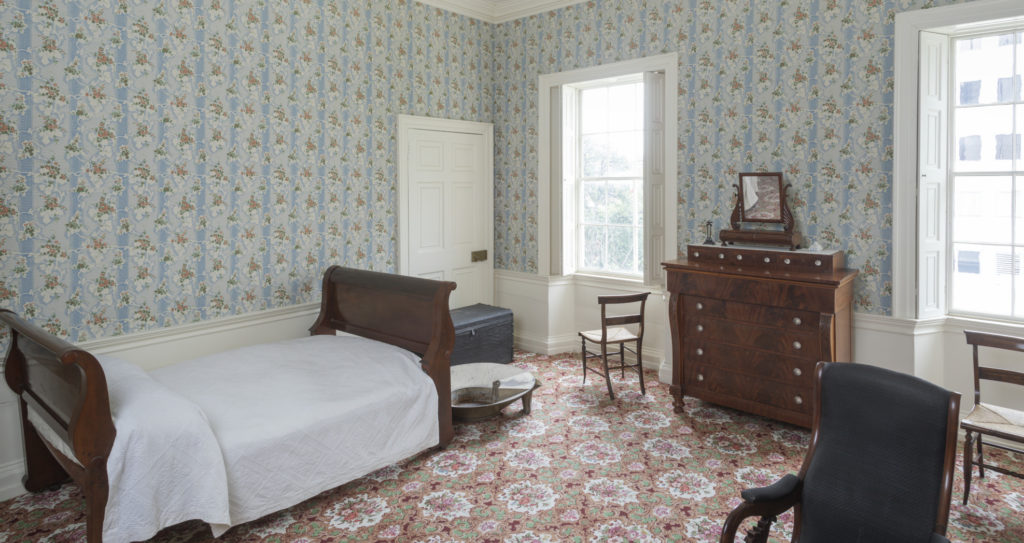 Genteel boarding houses, like the Otis House in the mid-nineteenth century, relied on reputation by being selective about their clientele and providing a comfortable, middle class home-like setting. Established and stable boarders could expect to live in sizable, well-kept rooms furnished with their own and/or "house furniture," to sit down to three home cooked meals per day in the dining room, and to entertain their guests in a well-appointed communal parlor on the first floor.  For many, these boarding houses were like a large family, providing the rituals of home.
From 1854 -1868, the Otis House was reunited in single family ownership. Four unmarried sisters, Lavina, Maria, Eliza, and Aroline Williams rented the house from the owner to use as a boarding house – an occupation deemed respectable for unmarried women at the time. Adapting an old home to become a boarding house did not require significant alterations, but many boarding house keepers did partition larger rooms.
By the early 20th century, the third floor of Otis House, had been divided into 16 rooms and 5 closets and it was clear that the house had transitioned from a boarding house into a lodging house, the main difference being that lodging houses let rooms only, and did not provide meals or common areas for socializing.