Otis House
Who Were the Boarders?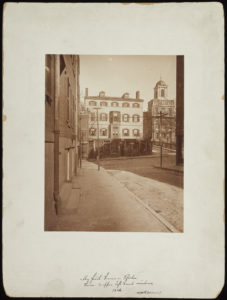 In the 1840s the Otis House became a boarding house. From that point forward, boarders and lodgers continued to live in the house until 1916, when it was acquired by the Society for the Preservation of New England Antiquities (now Historic New England) to serve as the new organization's headquarters.  The Otis boarding house room provides a rich introduction to life in Boston in the second half of the nineteenth century and the early years of the twentieth century.  During this period, the house, its occupants, and its interiors reflected the changing population of Boston, the city's rising industrialism, and the new urban lifestyles of the middle and working classes.
A snapshot of boarders who lived in the house during the period of WIlliams sisters operation of the boarding house (1854-1868) fall into several categories. From year-to-year the boarding house was occupied by several married couples, usually in their forties, occasionally with a child, and single men, a few middle-aged and the rest in their twenties. The men were mostly employed in white collar or professional occupations; they were naval officers, physicians, editors, news reporters, shoe and boot dealers, merchants, salesmen, and clerks. These include:
George Punchard (1806-1880) and wife Williamine (1810-1876) lived with the sisters throughout their times are boarding house keepers. George Punchard attended Dartmouth College and Andover seminary and was a founder of Boston's Daily Evening Traveller.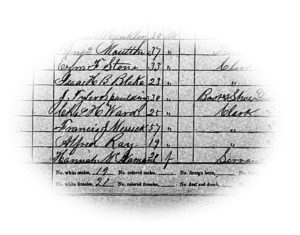 Francis Merrick (1799-1871) was raised in Concord, Mass. A clerk for most of his life, he was employed in the Naval Storekeepers Office at the Boston Navy Yard in Charlestown. Upon his death in 1868, he left $1,100 from his relatively modest estate to the Williams sisters.
Henry Knox Thatcher(1806-1880) and Susan (Croswell) Thatcher (c. 1816-1882); Susan Emerson Thatcher (c. 1852-1941). Henry Thatcher, grandson of revolutionary war hero Henry Knox, was a career naval officer who was likely at sea for most of the time his family was at Otis House. Susan Thatcher and their adopted daughter Susan boarded with the WIlliams' from 1857 -1859 and again between 1863-1868. Young Susan recalled occupying the parlor and office chambers as a suite with her mother.
It appears the Williams sisters themselves lived in the rear ell of the house and were assisted in their work by several servants. By the time of the sisters retirement in 1868 they had generated sufficient income to invest it and acquire a brick town house just around the corner from Otis House on Chambers Street, two of their long-time boarders, a couple, and their only single female border moved with them.