Otis House
African Meeting House
The African Meeting House is the oldest black church building still standing in the United States. Before 1805, although black Bostonians could attend white churches, they faced discrimination.
The African Meeting House was built in 1806 with both black and white support.  It is believed to be adapted from an Asher Benjamin design.
In 1832, William Lloyd Garrison founded the New England Anti-Slavery Society here. In the larger community this building was referred to as the Black Faneuil Hall.  The Meeting House's main focus was to help the African American community politically, socially, and spiritually.  Its goals were to find decent housing, to establish an independent supportive institution, to educate children, and to end slavery.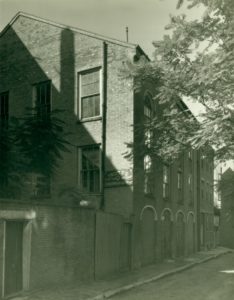 At the end of the nineteenth century, when the black community began to migrate from the West End to the South End and Roxbury, the building was sold to a Jewish congregation. It served as a synagogue until it was acquired by the Museum of African American History in 1972. It has been restored to its 1855 design.
Today it is the home of the Museum of African American History. It is open to the public and part of the Black Heritage Trail.