Otis House
Swan Dowry Houses, 13-17 Chestnut Street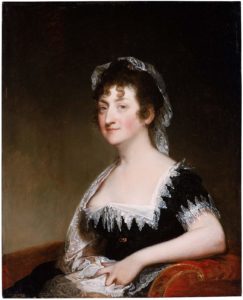 Hepzibah Swan, a Boston heiress, was the only woman involved with the Mount Vernon Proprietors. She was an "unofficial" member because she was a woman, but she had a great influence over the group's decisions. Being a Proprietor meant she was expected to build a mansion estate much like Harrison Gray Otis. Instead, she made her primary residence in the country (Dorchester) and built a townhouse for herself at 16 Chestnut Street. Designed by Charles Bulfinch, she had these houses and stables built as presents for her daughters upon their marriages. This ensured that her daughters would be taken care of in the event of an unfortunate marriage. Dowry houses were given in name only, while Mrs. Swan held the deeds. Had she given the property deed as a gift, the property would have belonged to the husband upon the daughters' marriage.  These Bulfinch residences, built around 1804-1805, are all four stories (not including the basement and attic) and have Adam style entrances with four slim columns. They also include the typical Bulfinch feature of having recessed arches around the first floor windows. Overall the buildings are very simple, both inside and out. In almost every room the interior design focused on the ceilings and mantels. Today only number 13 Chestnut Street retains the original layout.
The Swan stables sit behind the Chestnut Street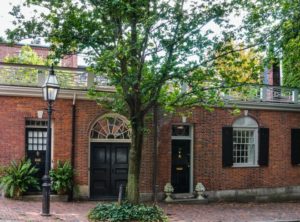 houses, facing Mount Vernon Street. As the deed for the land specifies that no building may be built above thirteen feet so as not to obstruct the view for the houses on Mount Vernon Street, the stables have remained. They have been converted into private residences.
Above: Mrs. James Swan (Hepzibah Clarke) by Gilbert Stuart, 1808. Photograph copyright Museum of Fine Arts, Boston.